Date : July 22 2021
Park : K-1496 – Duck Lake State Park
After trying my first Summit on the Air (SOTA) activation, I was excited try try doing a Parks on the Air (POTA) activation as well! I was going to be traveling to Michigan and have some free time. Taking a look at the POTA website, it was clear that Duck Lake State Park was going to be the closest park to visit.

Driving into the park, I didn't have a great sense of where would be good to activate. I knew that the beach area would be VERY busy, and would not have much shade. When you first arrive, there is a large parking lot, but it seemed pretty busy around there as well.

The first decent option looked to be an empty park bench at the boat launch parking. There was low traffic, open space, and an available bench. The biggest problem with this spot was the lack of shade.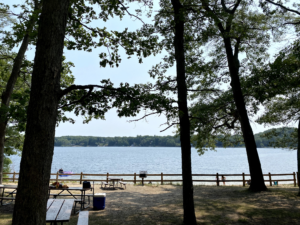 I kept going down the road and found that there was a pavilion that could be rented out. Unfortunately, the pavilion was in use, but there was a path that went down toward the lake. there were open benches, lots of space, and little foot traffic. So, setup on a bench in the shade and got started.
My Gear for this adventure :
Radio : Xiegu G90
Audio Interface: DigiRig Mobile
Antenna : Buddistick Pro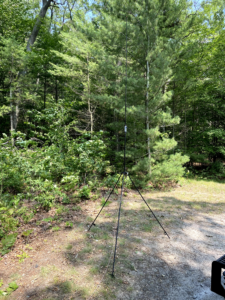 I decided to make this activation with mostly FT8. I had 10 FT8 contacts, followed by 2 P2P SSB contacts. This was hardly an amazing number of contacts, but was more than sufficient to fully "activate" the park! It was largely an experiment for me and a learning experiment.
This was also my first time using the Buddistick Pro. The antenna only barely arrived in time for my trip, so I hadn't had any time to test it out before flying to Michigan. It performed really well, and was perfect for my situation. I had heard from multiple people that Michigan doesn't allow you to hang anything from trees, so my normal KM4ACK EFHW wasn't going to be an option. I needed something self-supporting and this seemed to be a great option. So far, I'm quite happy with the antenna and would easily recommend it.