Although you can buy cables "pre-made" for connecting the GPS to the Kenwood D7, it seems to be in the spirit of ham radio… to build your own.
Hopefully these pictures will help you see what I did to get mine working.
Page 6 of Kenwood's Documentation on Connectors was very helpful. However it doesn't really say what to do with the "serial" port end of the cable. The TH-D7 manual mentions which holes are what, but obviously it can make a difference on which viewpoint (solder-side or connector-side) and whether it is a male or female port.
This cable has allowed me to connect a Magellan Meridian GPS and a Garmin etrex Legend to the D7. (NOTE: This was for use with the existing manufacturer cables that provide connections from the device to a DB-9 serial cable).
View of the front of the connector-side: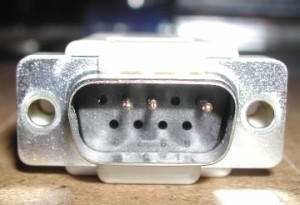 View of the top of the solder-side: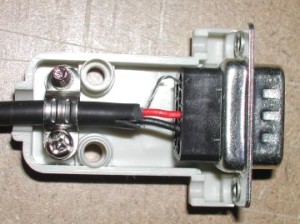 So a view from the solder-side shows the pins to be:
__(G)_(_)_(R)_(B)_(_)__
____(_)_(_)_(_)_(_)____
G = Ground
R = Red
B = Black (sometimes white)
A lot of this depends on the cable manufacturer. If for some reason it does not seem to be working, simply switch (R) and (B).
You'll notice that I used the crimp style connector for this specific cable, since the wires were large enough. On another cable that had smaller wires, I used the crimp and then soldered to make sure there was good connection.